Community Pricing Program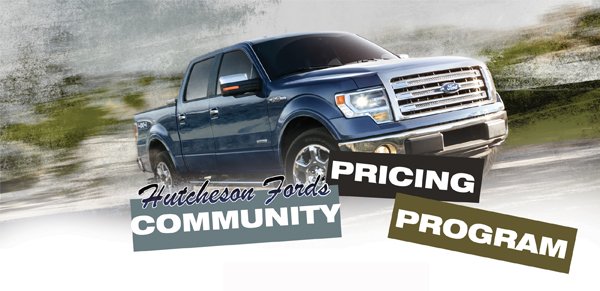 Do you work...
In the 65559 or 65401 Zip Code Areas?
At Fort Leonard Wood?
At a Rolla or St. James Chamber Business?
Would you like Special X-Plan Pricing on all new Ford vehicles? 
WELCOME TO HUTCHESON FORD'S COMMUNITY PRICING PROGRAM (CPP)! 
We are offering this program to ensure that local employers and employees get the same benefits as Ford Partners. Save thousands of dollars on your next vehicle purchase, enjoy the latest technology in Ford's new lineup, and experience Hutcheson Ford's excellent customer service first-hand. 
Contact Ryan Shockley at 573.265.7015 or ryan@hutchesonford.com for more information!
Thousands in Savings? YES!
Hutcheson Ford Community Pricing Program FAQ
1. What is X-Plan Pricing? 
The New Vehicle Purchase Program (X-Plan), also known as the Partner Recognition Program, is offered by Ford Motor Company to special organizations having a unique relationship with the company. Just like Ford offers this pricing to their partners, Hutcheson Ford is extending this program to our partners in the community! 
2. Can I still get other rebates on my new vehicle purchase, or is this it?
YES! You may still claim additional, applicable rebates on top of the X-Plan price. 
3. What paperwork do I need?
You need a paycheck stub from an employer that is either a member of the St. James Chamber of Commerce, Rolla Chamber of Commerce, in the 65559 zip code area, in the 65401 zip code area, or at Fort Leonard Wood. If you do not have a paycheck stub, a letter from your employer on company paper (with official letterhead) will suffice. 
4. Are there any vehicles not covered by the CPP?
Yes. Our CPP is for new Ford vehicles only. This program is only eligible for stock units and ordered vehicles. Certain commercial use, specialty, and "low-supply" vehicles as defined by Ford may not be eligible. 
5. Ok great, but why should I choose Hutcheson Ford over any other dealership?
Hutcheson Ford offers LONG-TERM customer service! Take advantage of our $9.99 Oil Change Packages, Free Vehicle Technology Seminars, and Trade-In Marketplace when the time comes.